More Fish Campaign
More Fish is WWF's Europe-wide campaign for real and effective reform of the Common Fisheries Policy (CFP) – legislation which controls fishing in European waters, but which has led to overfishing and large scale discards of edible fish.

Fisheries makes up a substantial part of the Scottish coastal economy, so it is in Scotland's interests to ensure that the reform of the CFP improves the health of Scottish seas and gives a long term future to the Scottish fishing industry.

If we can fix the CFP, wildlife in our seas will flourish and everyone will benefit - from fishermen to big retailers, down to your local chippie and people who just enjoy eating fish.

Thanks to the fantastic support we've had for our More Fish campaign, we're now in a strong postion - but we'll need another campaign push in the New Year - so make sure you're signed up to our Action Alerts to make sure you get the call to tack action.
---
A postcard from Scotland to the European Parliament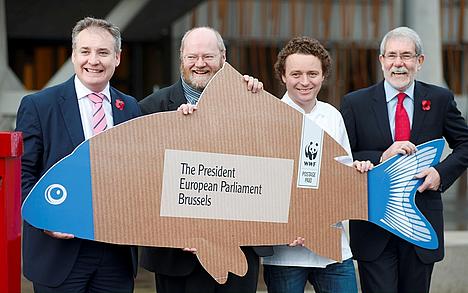 Shown above (from left to right) is Scottish Fisheries Minister Richard Lochead MSP, our director Richard Dixon, Tom Kitchin (award-winning chef) and Bertie Armstrong (Scottish Fishermen's Federation), "posting" a giant fish representing the broad support in Scotland to reform the CFP, to Brussels.
---
What do we want?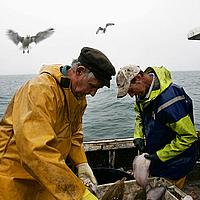 This is a crucial time for everyone with an interest in fish, as the Common Fisheries Policy is going through its once-in-a-decade review.

This policy has been in place for 30 years – and while the intentions were good when it was put in place – it hasn't worked. Seventy per cent of European fish stocks are now overfished, iconic species are disappearing and coastal communities are being run down.
It's vital that we act right now to fix this broken policy.

WWF has been developing proposals for CFP reform for several years, working hard alongside fishermen, fish processors and retailers. We don't just want any reform – we want the right reform.
We've come up with four solutions:

1. Sustainable management – every commercial fishery must be managed under a long-term management plan designed to ensure the sustainable management, recovery and rebuilding of fish stocks and marine ecosystems.

2. Effective regionalisation – fisheries must be managed regionally, linking fishing rights and responsibilities to improving ecosystem health and enhancing the economic resilience of the fishing fleets in order to achieve environmental and economic sustainability.

3. Improved quality – an integrated and coherent set of policies across the supply chain, so that fishermen catch what's needed when it's needed, avoiding waste and adding value at all stages along the way, from net to plate.

4. Fair fishing abroad – the principles of the policy must apply to all European fisheries and fishing boats wherever they operate in the world's oceans.
---