WWF's Earth Hour
Earth Hour 2014
It's almost time for Earth Hour 2014 - Sign up now and be a dazzling Earth Hour Star!
WWF's Earth Hour is the world's biggest celebration of our amazing planet, with hundreds of millions of people from around the world coming together in a spectacular lights out display.
It's a brilliant reminder that together we can make change happen and a chance to think about the small things we can all do to make a brighter future.

This year thousands of people in Scotland will be switching off their lights in a huge, symbolic show of support for action on climate change and a more sustainable future.

So whether you spend your time reflecting under the stars, celebrating by candlight, or even playing your facourtie sport lit by solar-powerd lanterns, Earth Hour is a moment to say you'll do your bit to protect our planet - not just for one hour, but every day.

Earth Hour 2014 will take place at 8.30pm on Saturday 29 March - we hope you will join us and sign up to be an Earth Hour star.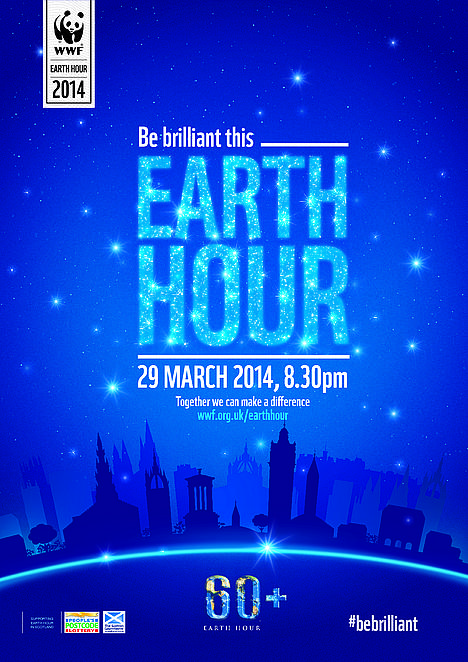 From sport star to Earth Hour star!
Cycling champ and Games 2014 supporting Earth Hour
Scottish track cyclist Callum Skinner has put his best foot forward to support Earth Hour this year. Callum represented Scotland in the 2010 Commonwealth Games and looks likely to be taking to the track again this summer. He announced his support on the same day that Glasgow 2014, organisers of this summer's Commonwealth Games, announced that several Games venues will go dark for Earth Hour.
Callum said,
"It's great to be here in Glasgow at the velodrome named after the man who inspired me to take up the sport, Sir Chris Hoy.  Getting involved in sport, and in particular cycling, gets you fit and getting on your bike for shorter journeys helps cut pollution.  I'm delighted Glasgow 2014 is getting behind WWF's Earth Hour."
Glasgow 2014, organisers of this summer's Commonwealth Games, will be switching off the lights at Commonwealth House HQ while Glasgow Life will be flicking the switch at the Emirates Arena, including the Sir Chris Hoy Velodrome.
David Grevemberg, Chief Executive of Glasgow 2014, said:
"Glasgow 2014 intends to deliver a meaningfully sustainable Commonwealth Games.  Sustainability is a key factor with all of our decisions and is about making both a positive and innovative impact where and when we can. Our current transformation of Hampden Park to a temporary Athletics stadium, which involves raising the surface on an innovative base of thousands of steel posts rather than with an infill of tonnes of solid material, is one such example of our commitment in this area.
"By supporting Earth Hour we hope to encourage others to think about ways they can make positive and lasting changes in the way they use resources now and in the future."