North Uist well given consent
22 March 2012
WWF Scotland responding to the news that BP has been given consent to drill the deepwater North Uist well, northwest of the Shetland Islands.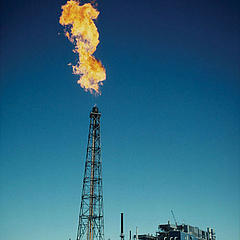 WWF Scotland Director Dr Richard Dixon said:

"First the Chancellor doles out billions of pounds worth of tax breaks to the oil and gas industry in the Budget. Next the Energy Minister consents new deepwater drilling. Together they help take the UK further and further away from becoming a zero carbon country.

"New deepwater drilling is just not worth the risk because we should be phasing out our use of oil instead of chasing ever more difficult sources. BP have already made it clear that a major spill from this well would be a disaster for fishing, tourism and wildlife, with oil washing up in the Northern Isles and as far away as Norway.

"Both the UK and Scotland have climate and renewable energy targets and yet are still supporting North Sea oil exploration in ever more difficult and sensitive areas. Instead of continuing to feed the massive profits of the oil industry, we need a proper plan to wean the country off its oil dependency."

BP estimates that in a worst case scenario a blowout at this well could lead to a spill releasing 75,000 barrels of oil a day for 140 days. A spill lasting that long would cause an oil slick to reach not just the fragile coastline of Shetland, but also Norwegian and Faroese waters.

The region west of Shetland is home to rich and diverse wildlife. The government's own Strategic Environmental Assessment describes the area as "of considerable scientific and conservation interest."

The area is an important breeding and feeding ground for fish, sea mammals, birds and other life. Over twenty species of whales and dolphins are found in these waters, alongside 48 species of seabird. The coasts and islands of the area also provide nationally significant habitats for otters.


---