Fuel Poverty: Welcome progress but more effort needed
13 December 2012
Fuel poverty figures are continuing to rise, but at a slower rate than anticipated due to improved energy efficiency said WWF Scotland.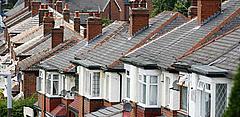 The claim follows the publication of the Scottish House Condition Survey (SHCS) released by the Scottish Government. This reveals that nearly 30% of households are living in fuel poverty – a slight increase on 2010, highlighting the need for more to be done to make our homes more energy efficient. Most worrying is that nearly 8% are still living in extreme fuel poverty – with no improvement from 2010.

However the good news is that despite fuel prices increasing by 19%, energy efficiency improvements still managed to offset the impact on fuel poverty by some 40%.

The SHCS report shows good progress on energy efficiency yielding results for fuel poverty, which shows that it is a sound investment of government resources. But much more remains to be done:

*2% of houses have no loft insulation
* 55% of houses have loft insulation below 200mm (still short of today's standards)
*34% of houses with cavity walls still require insulation
* 89% of houses with solid walls are un-insulated

Elizabeth Leighton, Senior Policy Officer at WWF Scotland said:

"The results show that insulation is the best way of protecting people from rising energy bills. It is estimated that in an un-insulated home a third of all heat lost is through the walls and a quarter of heat through the roof.

"Nearly two thirds of households living in inefficient homes are in fuel poverty, an increase of 8 per cent on 2010 figures. This demonstrates the need for minimum energy efficiency standards so people are not condemned to live in fuel poverty."

Based on WWF analysis using the government's housing model, [2] we know that all homes need to be at Energy Performance Certificate rating C or above by 2020 to achieve climate change targets – compared with only 37% today.

The government's decision to fund a National Retrofit Programme is very welcome, but WWF's research shows that we need three times the level of investment planned from public and private sources.

WWF is calling for :

An increase in the investment to the National Retrofit Programme (from £65m to £130m per annum) in order to increase the pace and scale of change;
Introduction of minimum standards at point of sale and rental by 2015, so households no longer have to live in the worst performing properties, condemned to fuel poverty;
Improve incentives to reward and give value to energy efficient properties – for example through the Stamp Duty.
---