Scotland's local authorities in forest protection pledge
28 December 2012
Majority of councils take steps to avoid use of illegal timber and paper products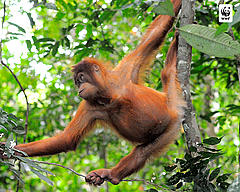 Some of the world's most precious wildlife and habitats will be less at risk from illegal logging thanks to action by a majority of Scotland's local authorities, said WWF Scotland .
 
The environmental charity applauded the efforts as it revealed that 23 of Scotland's 32 councils have given their backing to its campaign to stamp out illegal logging by asking councils to only use timber and paper products from sustainable sources.

WWF has been working in partnership with the Sustainable Scotland Network (SSN)  to ensure that Scotland's public bodies and their suppliers are fully prepared for the forthcoming EU Timber regulations, which come into effect in March 2013. These European-wide regulations aim to counter the trade in illegally harvested timber and timber products. Failure to follow the regulations could lead to a range of penalties, including fines.

Through its 'What Wood You Choose?' initiative WWF and SSN have been encouraging local authorities to make either a bronze, silver or gold pledge to ensure the wood products they use, from paper to furniture to building materials, are from legal and sustainable sources, such as Forest Stewardship Council (FSC). [4] So far Fife, City of Edinburgh Council, East Dunbartonshire and Falkirk have all made the top 'gold' pledge.

Elizabeth Leighton, Senior Policy Officer at WWF Scotland said:

"Between them Scotland's local authorities use thousands of tonnes of timber and paper products every year. Therefore, it's great news that so many councils will now be requiring suppliers to prove that their timber products come from sustainable sources. By taking a very public stand against the use of illegal and unsustainable logging, Scotland's local authorities are helping to preserve and protect some of the world's most precious forests and wildlife."

Sylvia Gray, Chair of the Sustainable Scotland Network, said:

"The response of the majority of Scottish local authorities to WWF's What Wood You Choose Campaign demonstrates how local councils can adopt procurement practices that deliver for the financial bottom-line and for sustainable development. The Sustainable Scotland Network is very pleased with the outstanding commitment shown by Scottish local authorities and we are proud to be working with WWF to improve public sector timber procurement."

Craig Innes, Head of Procurement at Aberdeen City Council said:

"Aberdeen City Council is committed to sustainable timber procurement and that is why we are making a pledge to achieve WWF Silver standard for procurement of timber and wood-derived products. The council successfully achieved the bronze level in July 2011 and we now have our sights set on the next stage. Illegal and unsustainable logging threatens not only rainforests but also the well-being and livelihoods of local and indigenous communities as well as species. It is therefore essential that businesses and organisations, including Aberdeen City Council, make the right choices when buying wood-related products and ensure these products derive from legal and sustainable sources."

Ken Guild, leader of Dundee City Council said:

"I am delighted that the council has signed up to and met the conditions of the silver pledge. We have specified the use of timber from sustainable sources for the new Whitfield Life Services building that is currently under construction and a separate project at Camperdown Park. It is important that we all step up and take responsibility for the world's forests and the habitats they create for a diverse range of wildlife."

Finance and Budget Convener at City of Edinburgh Council Councillor Alasdair Rankin, said:

"We were very pleased to participate in this highly worthwhile initiative. It's vitally important that the timber and wood products we use are sustainable to help protect forests and wildlife for generations to come. We are now aiming for the Gold Pledge to help achieve this."

Leader of East Dunbartonshire Council, Rhondda Geekie, said:

"We are delighted to work with WWF Scotland on an initiative that is so important for our environment. We strive to improve our green credentials wherever possible and by pledging to use as many sustainable wood products as possible is an excellent way to help us achieve that. This is our third year and we are working hard to achieve the gold award in 2013. We recognise that with our buying power and that of other Councils we have a responsibility to think about our impact on the environment. So, we will continue to buy as many products as possible that are from sustainable sources."

Councillor Dr Craig R Martin, Convener of Environment and Community Safety at Falkirk Council said:

"We have made a commitment to buy our timber ethically showing our commitment to help protect the environment by not buying timber from illegal logging which is causing massive damage to natural environments. We will continue to work with other organisations to help protect natural habitats across the world and are pleased to be one of the Scottish local authorities to be awarded Silver status. We hope to achieve Gold status next year."

Corporate Procurement Officer Derek Hamilton at Fife Council said:

"Following on from our success in becoming the first Local Authority in Scotland to obtain the Silver Award, Fife Council aims to further our commitment to the WWF "What Wood would you Choose" Campaign by achieving the Gold pledge in 2013. The steps currently being undertaken by Corporate Procurement include, school visits to promote sustainable timber and paper procurement, fresh news items on the Councils intranet and carry out audits of timber and paper procurement across the Council. This will enable Fife Council to embed the approach to the purchase of paper, timber and timber related products across the entire organisation."

Leader of Glasgow City Council, Cllr Gordon Matheson said:

"We aim to make Glasgow one of Europe's most sustainable cities - and our pledge is part of a wider long-term commitment to sustainable procurement. There are environmental benefits, but we also look at what is financially and socially sustainable. A greener Glasgow needs to deliver benefits for all our people."

Elizabeth Leighton, Senior Policy Officer at WWF Scotland added:

"We're obviously delighted to have already gained the support of so many councils so far. However, we hope that we'll eventually be able to count on the support of them all. We'd be happy to talk to any council still wishing to make a pledge and take a stand against illegal logging."

---