Scotland's marine wildlife put at risk as protection expires
31 December 2012
Groups call for urgent resolution to protect vulnerable marine species and habitats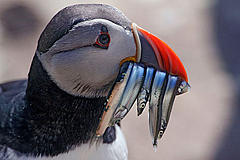 The conservation of vulnerable Scottish fish stocks and the marine environment will be put at risk when key elements of European legislation to protect them expire at midnight tonight said environmental groups today (Monday 31 December).

WWF Scotland and RSPB Scotland issued the warning after the EU failed to meet a deadline this month to introduce the amendments needed to extend the life of a number of important measures by placing them into an agreement known as the fisheries Technical Conservation Regulation designed to protect sensitive marine environments and species.

As a result EU vessels will no longer be bound by these measures, meaning the EU would no longer be able to legally prevent certain environmentally-damaging activities in fragile marine areas, such as the:

use of deep-sea gill nets which were prohibited due to the high by-catch of vulnerable species such as deep-sea sharks;
re-opening of sandeel grounds in the North Sea, risking seabird populations; and
lifting of fishing prohibitions in the Rockall area, putting at risk juvenile fish and vulnerable deep water corals.
The groups called on the European Parliament, Council and Commission to resolve any outstanding issues as a matter of urgency and to introduce emergency measures early in the new year.
Helen McLachlan, Senior Marine Policy Officer at
WWF Scotland
said:
"It's totally unacceptable that a failure to agree procedure at a European level is able to put at risk hard fought protection for key species, fisheries and marine areas around Scotland and beyond. This needless delay has the potential of allowing damaging practices to return to fragile marine areas and impact vulnerable marine species. It is vital that this situation is resolved as soon as possible if Europe is to sustainably manage our precious marine resources."
Kara Brydson,
RSPB Scotland
's Senior Marine Policy Officer, said:
"Protecting marine wildlife from the worst effects of fishing shows the EU at its very best. We trust that the EU institutions will not play Russian roulette with our wildlife, and will come back around the table to ensure that vital conservation measures remain in place. Scotland hosts the majority of the EU's breeding seabirds so safeguarding protected offshore areas for them, and the sandeels they rely on, should be a priority for everyone involved."
Note: this news article was amended on 18 January 2013
---