Ben Fogle backs fight to save Scottish marine lab
13 February 2013
TV adventurer and WWF ambassador Ben Fogle has thrown his weight behind a campaign to prevent the closure of the internationally renowned marine research laboratory at Millport in the west of Scotland.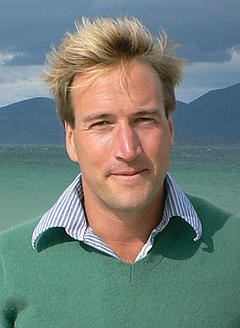 In an interview in The Scotsman newspaper, Fogle said that scientists at the University Marine Biology Station in Millport played a vital role in combating the hazardous rise of plastic bags and other litter in the world's seas which is increasingly contaminating the food chain.

The lab is expected to close at the end of the year after £400,000 in annual funding from the Higher Education Funding Council for England was withdrawn.

Fogle told The Scotsman: "The word environment has become such a contentious issue. It is institutions like Millport that are going to provide the hard evidence that cannot be disputed [by those who don't believe the oceans are in danger from threats like pollution].

"I think that's where we should be focusing our resources because otherwise there are always going to be doubters. Yes, £400,000 is a lot of money but in the grand scheme of things it really is a drop in the ocean.

"When little pieces of plastic start appearing in people's fish and chips that's when people will say, 'I wish we had known earlier', but we would have known earlier if Millport can continue doing the research that they do."

Campaigners have welcomed Ben's support for the campaign.

"It's great news that Ben has thrown his weight behind attempts to save the marine lab," said WWF Scotland's director Lang Banks.

"His interest in raising awareness about the marine environment is well known and we hope his intervention will encourage a serious rethink by decision makers.

"The marine lab at Millport is an important scientific and educational resource. If we are really serious about seeing our oceans and seas protected and improved then establishments such as this would not be being put at risk in this way."

For more information about the campaign to save the marine lab visit: Save Our Marine Station Facebook page.

---